Incredible Sex Tips for Fall: Love, Lust, Repeat!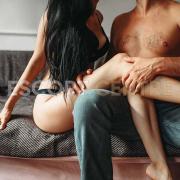 What's not to love about fall? In midst of all the colours of red and gold and a breath of crispy air; the change of season the perfect occasion to switch up your bedroom life.
Slowing things down, and making your sex life a bit more interesting and intimate is likely the most soothing way to roll into autumn. If you want to let your creativity flow and reinvent your intimate self with a zest of hotness; these sultry sex tips will ensure the fun doesn't leave your bed!
1. By the Fireplace
Getting cosy in the fall might be everyone's favourite experience; and it is even more enjoyable when you do it in the nude! Use the chilly season to cuddle, spoon and get busy in front of a crackling fireplace!
No worries, if you don't have one, you can achieve the same effect with lighting candles; using electric heaters, or treating yourself with a cosy bubble. A lot less sweaty and a lot more comfortable, this fall, great sex begins with staying closer together.
2. Sensory Play is a Must
What better season to play with the senses than fall? The season offers the best of both worlds- hot sunny days and quiet rainy nights; so feel free and reflect these extremes into your bedroom. Sensory play allows plenty of creativity and dynamics and can be achieved through various techniques.
Whether you pull out the blindfold or play with some light BDSM; autumn makes the perfect time to arouse your senses. And, with most sensory-provoking items already found in your household (such as scarfs, belts, gloves, silk, etc.), you won't have to spend a ton of money to find great pleasure.
3. Wax Play
A great way to start your sensory play is by using candle wax as a stimulator. Candle wax is quite intriguing to play with as it revives the senses but doesn't hurt at all (if you are careful enough). Plus, with so many scents and options nowadays; you can keep your wax play as interesting and colourful as you want.
Not into wax play? No problem, get your hands greasy and try essential or massage oils instead!
4. Food Play
The fall makes the best season to at comfort food, treat yourself with autumn-favourite snacks; and if you are curious enough, experiment with food and sex. From chocolate fondue to maple syrup, honey, pumpkin and cinnamon, fall's finest gifts will ensure your belly is full and your sexual ventures dynamic.
If you decide to try out some sexy foods in bed, ensure you are only using them topically and steer clear from the genitals. Your health comes first, after all.
Source: https://www.dusk-magazine.com/fall-in-love-the-best-sex-tips-for-autumn/
For more weekly blog vist the weekly blog at Escort Centre.